Reserve Now
Or Check Rates
Campground Amenities
Amenities Overview
Campground Amenities
50

Max Amp

80'

Max Length

Wi-Fi

Cable TV

Pool (5/23 - 9/1)

Snack Bar ($)

Propane ($)

Kamping Kitchen

Fishing

Mini Golf ($)

Firewood ($)

Pavilion

Bike Rentals ($)
Unique Amenities
Basketball
Cornhole
Gem Mine
Golf Car Rentals
Horseshoes
Planned Activities/Theme Weeknds
Soccer
Train Rides
Volleyball
Campground Activities
Bikeways
Dayton, Brookville, Little Miami Scenic Trail.
Read More
Golfing
The following courses are located within 20 minutes of the campground: Cassel Hills Golf Club, Penn Terra Golf Club, Beechwood Golf Course, Larch Tree Golf Course, Hara Green, KittyHawk, Eagle (highest rated municipal course in Miami Valley), Hawk (strong intermediate course) and Kitty (beginner's par 3 course).
Read More
Meet Your Hosts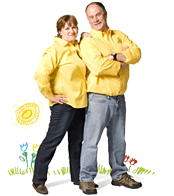 "The campground provides events, and welcomes many families who are repeat customers or referrals."
The Dayton KOA has been a family affair for Rhonda and Joe Landis, who purchased the campground in their hometown. "All of our children are involved in one way or another," Rhonda said.
The family chose to make a career change when the campground opportunity arose, and they've enjoyed the new venture. Previously they were involved in real estate, rental properties and they own farms. "Joe enjoys people - getting out into the park and talking to people," Rhonda noted. The enjoy the challenges and the new things which occur.
"It's been great," she said of the campground and their guests. "We treat the customer they way you want to be treated," she said. "We treat them with respect. We feel that is the most important thing is making sure the customer is happy."
"We just want them to have the best experience here that they possibly can. We treat them as a guest in our home, because we live here, and that's just what it is."
The extensive grounds in the park are a source of pride, with lots of mature, shady trees, shrubbery, lawns and gorgeous flowers. "It takes five men three days to mow and trim," she said of the expansive setting. They continue to upgrade the campground and make overall improvements, such as painting and re-roofing the buildings.
Guests enjoy an 80-foot pool as well as a pond for paddleboats. The campground also provides events, and welcomes many families who are repeat customers or referrals. "We are considered a destination," Rhonda added.
The Landis family has enjoyed camping for several years as a family, and they still get together with their children, doing things together and camping. Joe and Rhonda live at the campground during the summer season and kept their home, where they live during the off-season. They look forward to more winter travel.