Reserve Now
Or Check Rates
Meet Your Hosts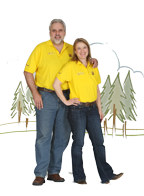 "Enjoy great camping and Metropolitan Chicago with a Swiss touch!"
Thomas and Sylvia moved from Switzerland to the U.S. early 1998 with their two young boys Stephan and Andreas. Thomas had accepted a foreign assignment for a large global insurance company and the family followed, even though Sylvia had to sell her physical therapy business in Zurich.
The family enjoyed most of their vacation camping, a bug acquired by Sylvia and Thomas when traveling 9 weeks through New Zealand in a motor home.
I did not take long for them to find out that America was a Camping Nation with unbelievable outdoor opportunities. With their new travel trailer, they started to explore the country.
Attracted by the KOA Yellow and the consistent quality of the parks they visited along their travels, Thomas and Sylvia started talking to the owners of these campgrounds. Amazed by the many upbeat people they met and their positive experiences as camping hosts, the thought of owning once a KOA took root.
When the opportunity arose to acquire the Chicago Northwest KOA campground, both were ready to make their dream happen.
All of the family members are U.S. citizens in the meantime. Sylvia spends most of her free time with gardening and reading books, Thomas as avid outdoorsman with hunting and fishing. Stephan is in Switzerland working and studying. Andreas you will find at the park escorting our guests to the campsites.