Reserve Now
Or Check Rates
Campground Amenities
Amenities Overview
Campground Amenities
50

Max Amp

73'

Max Length

Wi-Fi

Cable TV

Pool (5/23 - 9/2)

Snack Bar ($)

Propane ($)

Kamping Kitchen

Mini Golf ($)

Firewood ($)

Bike Rentals ($)
Unique Amenities
Families
Free pet shower.
RV Clubs & Rallies
Meet Your Hosts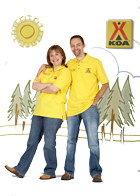 "We want your stay with us to be memorable!"
Realizing that their kids were growing up fast, Steve and Marci started looking for a new adventure for their family. They wanted to work together and make lasting memories. Since some of their favorite family memories were made during a brief stint living in an RV and during later camping trips, they decided to leave the suburbs behind and purchase a campground. All four Kyles and their tabby cat packed up and moved to a beautiful oasis in the badlands.
Now, their goal is to treat every guest like family. Steve grew up around a family business and later pursued a career in product management. He knows that an emphasis on quality and attention to detail are what makes a business memorable. Thats why youll experience sparkling clean restrooms, hearty hot breakfasts and friendly, helpful staff. Marci is a sign language interpreter and has worked with international students. Communication is her strong suit. Her focus is on making your stay GREAT. Both of them want your experience at Badlands KOA to be one that you will remember for all of the right reasons.
Because this is about family, campers will also see the Kyle kids pitching in. They have great ideas about how to have fun and are a great resource for information on where to hike or see wildlife. Activities at Badlands KOA are kid-tested and kid-approved.
Whether you are looking for some family fun, or prefer shady peace and quiet, the Kyles invite you to join their camping family.