Reserve Now
Or Check Rates
Campground Amenities
Amenities Overview
Campground Amenities
50

Max Amp

74'

Max Length

Wi-Fi

Pool (5/24 - 10/20)

Propane ($)

Fishing

Mini Golf

Firewood ($)

Pavilion
Unique Amenities
Beautiful Wooded Sites
Day Use / Visitor Wristbands
Dump Station
Gift Shop
Lake Access
Playground
RV Clubs & Rallies
Stage
Campground Activities
The activities listed below are open from Memorial Day to Labor Day .
View All Activities
Campground Events
Listing
Calendar
Come Camp & Care Weekend/Yard Sale/Open House!
May 10, 2013 - May 12, 2018 , Once A Year
Free camping Saturday when you pay for Friday! Help us raise funds and have some fun. We will have a giant yard sale and Silent Auction on Saturday. Free Outdoor Laser Tag demos Saturday. Free pancake breakfast for MOM on Sunday. All funds raised from the yard sale,silent auctions and pancake breakfast will be donated to KOA Cancer Care. KOA supports Camp Sunshine right here in Maine! Help us reach our August/Gardiner goal for this year of $2,000 we were able to donate $710. from this weekend last year!
Read More
Christmas in July/Site Decorating Contest/Richmond Days/Hot
Jul 26, 2013 - Jul 30, 2017 , Once A Year
Decorate your site for Chirstmas. Take part in the Richmond Days celebration; Tim Sample will be appearing at Richmond High School Gymnasium on Saturday at 7:00 pm. Tickets are $20 at the door.
Read More
Campground News
Reminder for VKR Members...
Remember that you get an EXTRA 250 Points when you book your reservations for your KOA stays on our Website!
Read More
Meet Your Hosts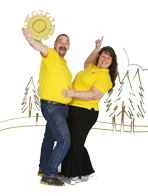 "100% SATISFACTION GUARANTEE! If you're unhappy and if we can't fix it, we will refund fees or provide a rain check for any remaining stay. Our goal is 100% Happy Campers!"
We invite you to visit us at our park, we both have a background in careers with a high value on customer service and want to bring our experiences to play in our park.
We both had always dreamed of owning a campground and now here we are! We believe that some things are meant to happen but just not necessarily at the time you plan it to. And we strongly believe that the future belongs to those who believe in the beauty of their dreams!
We are open to hearing suggestions of things that we may do or have here at our park, but don't be surprised if we ask you to give us a list of three resolutions / answers of how we may accomplish those things that would be realistic and financially feasible, for us.
We have a strong belief that families are a great source of happiness, strength, and peace so it is no wonder that we choose this lifestyle. And one of our goals this year at our park is to become know as a great place for families to vacation, staycation, camp, and visit even if just for a few hours.
Keep us in mind for your planning needs...Think of us from this point on as your Central Maine's Outdoor Family, Civic, and Corporate Outing Facility. Give Patti a call to discuss your party / event planning details and needs at 207-582-5086! Birthdays, Anniversaries,Family Reunions, Class Reunions, Retreats Civic/ Corporate/ Church Group/ Youth Group/ Theater Group/ Scout Troop,and ETC.
Henry & Patti Grover
LTD Parks, Inc.
Augusta - Gardiner KOA