Reserve Now
Or Check Rates
Campground Amenities
Amenities Overview
Campground Amenities
50

Max Amp

90'

Max Length

Wi-Fi

Cable TV ($)

Pool (Open Year-Round)

Hot Tub / Sauna

Snack Bar ($)

Propane ($)

Kamping Kitchen

Mini Golf

Firewood ($)

Pavilion

Bike Rentals ($)
Unique Amenities
Families
Military Clubs
Motorcycle Clubs
Planned Activities Available
RV Clubs & Rallies
Tours
Campground Events
Listing
Calendar
NAME THAT CABIN CONTEST!
We have 18 Deluxe Cabins that need GREAT names.
Pick a name that fits within the following themes:
          Woodsy, Historical, Coastal, Camping & Locale
 
PRIZES:  18 GREAT names will be chosen! The winners will receive  their choice of either $75.00 gift certificate to be used towards RV camping or 2 free nights in the DELUXE cabin that will receive your chosen name.  All stays must be used by May 21, 2015. Deposit rules apply. All duplicate names that are chosen will be put in the barrel and one random name will be drawn.
 
You may enter as many names as you can think of and as many times as you wish!

3 ways to enter:
1.  Fill out an entry form in the Kampstore
2. Facebook: send a message to Astoria KOA with your name address and phone number along with cabin name or
3.  Email Kym, your name, address, phone number and cabin name to kbaird@racpack.com please put Contest in the subject line.
 
Good Luck!
Read More
Meet Your Hosts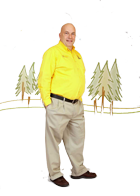 "There's 1000 things to do!"
Hello, campers!
It's hard to believe that just a few months ago, I was at the Harpers Ferry, West Virginia KOA, more than 3,000 miles from the beautiful campground I now call home.  When I was asked to join the great team here in Astoria, my wife Jane and I knew that it was exactly the right place for use to be.  Exploring the great state of Oregon for the first time really has been a phenomenal experience, and as we begin our 2012 season at the Astoria KOA, I plan on bringing the same level of excitement that I have felt to our campground.  With a theme of "1000 Things to Do", we are planning new ways to capture your attention, spark your imagination, and keep you coming back for more.
This year will bring a whole lot of fun to the Astoria KOA, and I invite you to make your reservations now to be a part of it all.  And when you're here, be sure to stop in and say "hi".  I'd welcome the chance to meet you.
See you soon!
Dale Brechlin
General Manager
Astoria/Warrenton/Seaside KOA